The Bulletin includes the proceedings of international or regional conferences or reports from comparative projects devoted to salient economic and legal issues in sport. It will offer a platform of expression and discussion to scholars and practitioners worldwide, often featuring special guest editors.

For further information about the International Sports Law and Policy Bulletin please contact the Editorial Board at info@sportslawandpolicycentre.com.

To get the guidelines for Authors please click here.




Bookstores discount: 20% (1 copy) - 25% (2 copies) - 30% (3 or more copies)
Student discount (with proof of university enrolment): 15%



SPORTING SUCCESSION IN FOOTBALL
J. Cambreleng Contreras – S. Samarth – J.F. Vandellós Alamilla (eds)

International Sports Law and Policy Bulletin 1/2022

ISBN 978-88-943373-2-7 (Book)
ISBN 978-88-943373-3-4 (E-book)

September 2022, 404 pages

FLYER - TEASER - TABLE OF CONTENTS - ORDER FORM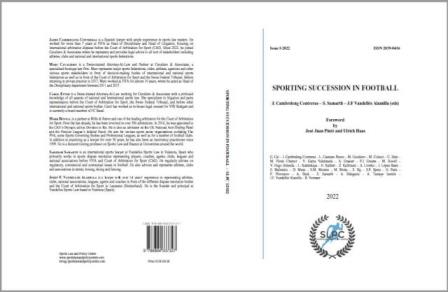 * * *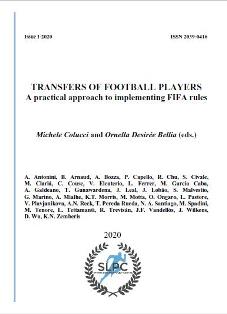 TRANSFERS OF FOOTBALL PLAYERS
A practical approach to implementing FIFA rules

Michele Colucci and Ornella Desirée Bellia (eds.)

International Sports Law and Policy Bulletin 1/2020

ISBN 978-88-940689-9-3 (April 2020, 908 pages)

FLYER
TEASER
ORDER FORM
This book is updated with the latest amendments to the FIFA Regulations on the Status and Transfer of Players published in March 2020.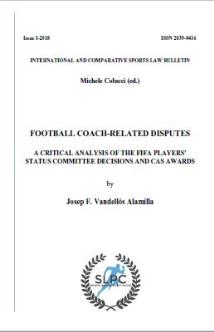 FOOTBALL COACH-RELATED DISPUTES
A CRITICAL ANALYSIS OF THE FIFA PLAYERS' STATUS COMMITTEE DECISIONS AND CAS AWARDS

By Josep F. Vandellós Alamilla

Michele Colucci (ed.)

International Sports Law and Policy Bulletin 1/2018

ISBN 978-88-940689-8-6 (March 2018, 292 pages)

FLYER
TEASER
ORDER FORM
BOOK REVIEW












NOW AVAILABLE ON LINE FOR FREE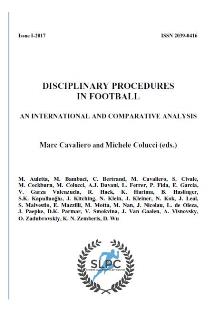 DISCIPLINARY PROCEDURES IN FOOTBALL
AN INTERNATIONAL AND COMPARATIVE ANALYSIS

Marc Cavaliero and Michele Colucci (eds.)

International Sports Law and Policy Bulletin 1/2017

ISBN 978-88-940689-7-9 (October 2017)

FLYER
TEASER
PRESS RELEASE

download pdf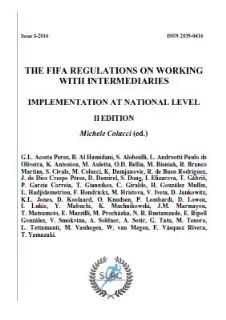 THE FIFA REGULATIONS ON WORKING WITH INTERMEDIARIES
IMPLEMENTATION AT NATIONAL LEVEL

II EDITION

Michele Colucci (ed.)

International Sports Law and Policy Bulletin 1/2016

ISBN 978-88-940689-6-2 (December 2016)

PRESS RELEASE
BROCHURE
TEASER
BOOK REVIEW (I Edition)
COMPARATIVE TABLE (updated on 3.12.2017)


download pdf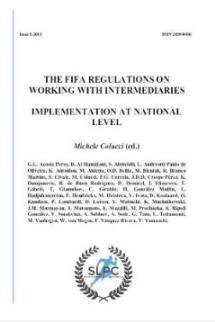 THE FIFA REGULATIONS ON WORKING WITH INTERMEDIARIES
IMPLEMENTATION AT NATIONAL LEVEL

I EDITION

Michele Colucci (ed.)

International Sports Law and Policy Bulletin 1/2015

ISBN 978-88-940689-3-1 (December 2015)

PRESS RELEASE
BROCHURE
TEASER
BOOK REVIEW
COMPARATIVE TABLE


download pdf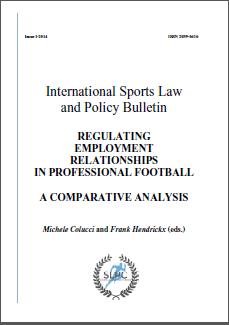 REGULATING EMPLOYMENT RELATIONSHIPS IN PROFESSIONAL FOOTBALL
A COMPARATIVE ANALYSIS

Michele Colucci and Frank Hendrickx (eds.)

International Sports Law and Policy Bulletin 1/2014

ISBN 978-88-905-114-8-6, 470 pages

TEASER

download pdf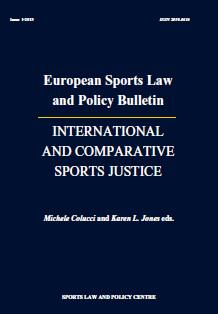 INTERNATIONAL AND COMPARATIVE SPORTS JUSTICE

Michele Colucci and Karen L. Jones eds.

European Sports Law and Policy Bulletin 1/2013

ISBN 978-88-905-114-7-9, 698 pages

TEASER

download pdf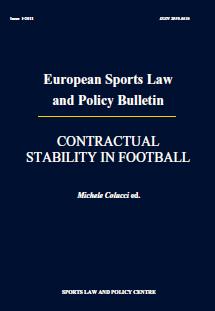 CONTRACTUAL STABILITY IN FOOTBALL

Michele Colucci ed.

European Sports Law and Policy Bulletin 1/2011

ISBN 978-88-905-114-4-8, 344 pages

TEASER

download pdf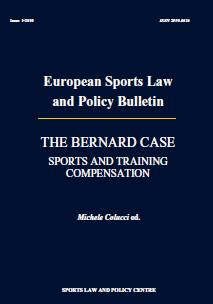 THE BERNARD CASE
Sports and training compensation

Michele Colucci ed.

European Sports Law and Policy Bulletin 1/2010

ISBN 978-88-905-114-3-1, 234 pages

TEASER

download pdf