INTERNATIONAL SPORTS LAW AND POLICY BULLETIN




Newsletter 1/2015 edited by M. Cintic - M. Colucci - A. Frattini

May 2015



For further information about the INTERNATIONAL SPORTS LAW AND POLICY BULLETIN, please contact the Editorial Board at newsletter@sportslawandpolicycentre.com.

If you have trouble reading this Newsletter, please click here to read it online.


In the spotlight


Second Edition - Ravello (Amalfi Coast) - Italy - 25-31 May 2015

Programme - Flyer - Agenda



UEFA MIP - Executive Master for International Players




NEWS
EVENTS
CASE LAW
LINKS

PUBLICATIONS
REGULATING EMPLOYMENT RELATIONSHIPS IN PROFESSIONAL FOOTBALL
A COMPARATIVE ANALYSIS

Michele Colucci and Frank Hendrickx (eds.)

International Sports Law and Policy Bulletin 1/2014

ISBN 978-88-905-114-8-6, 470 pages

TEASER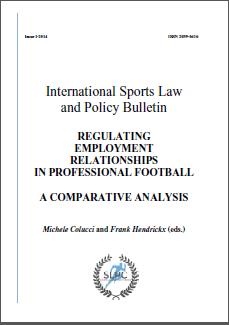 Sport performs several functions in society: an educational, a social, a cultural as well as a recreational function. Nevertheless sport is also business: in economic terms, it is a rapidly growing area accounting for 3% of world trade and is one of the sectors most likely to generate new employment in the near future.
International and national sports association regulate this business in an autonomous way and adopt private regulations or by-laws, including organisational, disciplinary rules as well as rules of play. However, the trend towards more professionalism in sport and its growing economic and relevance have prompted an increasing reliance on legal rules adopted by governments and international organizations such as the United Nations, the Council of Europe, and the European Union.
Sport is also considered as a "special sector" and could even be seen as a specific 'labour market'. In a professional sport context, athletes and players can be considered as "special workers" and their clubs and teams as "special employers". The specific nature of sports, leading to the question how public regulation and private sport rules relate to each other, is also an issue when employment relationships are concerned. For example, how do employment law rules interrelate with questions of athlete selection, remuneration, discipline or contracting? How do laws and regulation support and implement players' or athletes' unionism or collective bargaining that may take place? To what extent are team sporters seen as regular employees, or individual sporters as self-employed persons?
In this book, we take stock of the rules and problems that exist when combining the law on employment relations and specific sport contexts and particular sporting rules. The focus will be on professional football, a field of world-wide economic and social interest, where club-player relations are rather well established and structured through sport international bodies and a large number of problems and issues have already accured. Professional football is a field where the interaction between public employment regulation and private sports regulation is most relevant. The aim of this book is to examine the question how the legal regulation of employment relations are applied or adapted to the context of professional football and to what extent aspects of sport specificity could be identified or established justifying a special legal regime.




THE CODE OF THE COURT OF ARBITRATION FOR SPORT:
COMMENTARY, CASES AND MATERIALS

by: Despina Mavromati, Matthieu Reeb

March 2015, ISBN 9041138730, 760 pp.

Kluwer Law International

Launch of the Book Lausanne 6 May 2015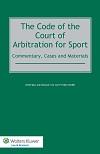 JOB Opportunities



IF YOU WISH NOT TO RECEIVE THIS NEWSLETTER ANYMORE, PLEASE UNSUSCRIBE