IN THE SPOTLIGHT


CAS dismisses the appeal of Blatter

The Former FIFA President remains banned for 8 years from any International and national football activity.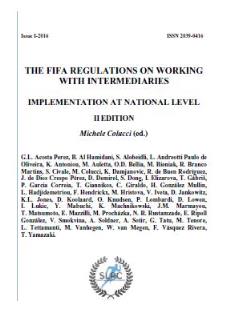 THE FIFA REGULATIONS ON WORKING WITH INTERMEDIARIES
IMPLEMENTATION AT NATIONAL LEVEL

II EDITION

Michele Colucci (ed.)

International Sports Law and Policy Bulletin 1/2016

ISBN 978-88-940689-6-2
(December 2016)

PRESS RELEASE
BROCHURE
TEASER
BOOK REVIEW (I Edition)
COMPARATIVE TABLE
ORDER FORM


The book is the second and updated edition of a work of international specialists, whose contributions have been edited by Prof. Michele Colucci. The FIFA Regulations on Working with Intermediaries is a landmark change in its approach to govern this sensitive category of professionals. This extraordinary reform has had a huge and lasting impact on the consolidated national rules dealing with intermediaries.
The context was too challenging to ignore. The Sports Law and Policy Centre (http://www.sportslawandpolicycentre.com), has published a global, nearly exhaustive review of both the new FIFA Regulations and their national implementations by the most influential football associations in Europe, Americas, Middle East and Asia.
The upgraded analysis is comparative and multidimensional. It raises the major legal issues concerning the actual problems and suggests practical solutions.